How would you describe a shopping mall?
A shopping mall is a place where there are a number of shops of different goods under the same roof along with some cafes, restaurants, ids playing zones, etc.
In present times, people prefer these shopping malls over markets because these are a single stop destination for every kind of product.
Cosmetics to baby food, clothes to home decor materials, electronic goods to pet supplies, everything falls in the interconnecting walkways within a mall.
Thus, in recent times malls have become an integral part of the lifestyle.
People also visit the mall on weekends for lunch and dinner in restaurants inbuilt, food courts in the malls are a quick step in destinations for every people visiting the mall for shopping or meet up.
Therefore, malls are one such destination that serves all your needs and that has made shopping malls a favorite quick go-to destination for everyone.
How many malls are there in Kolkata?
Kolkata, the city of joy is a metropolitan city with a humongous amount of people, and which is developing with leaps and bounds. Maybe the malls of Kolkata aren't as well featured as the mall of Delhi, Bangalore or Mumbai, yet there are few malls in Kolkata which are ideal for shopping and having fun, be you are a kit, a teen or an elderly person.
Because some malls have play areas for kids, massage therapy zones for elderly people, spa parlors for everyone. Thus, visiting a perfect mall with all the definite features is actually fun.
So, let us help you find out the best mall in Kolkata with all the important and fun elements in Kolkata:
1. Quest Mall: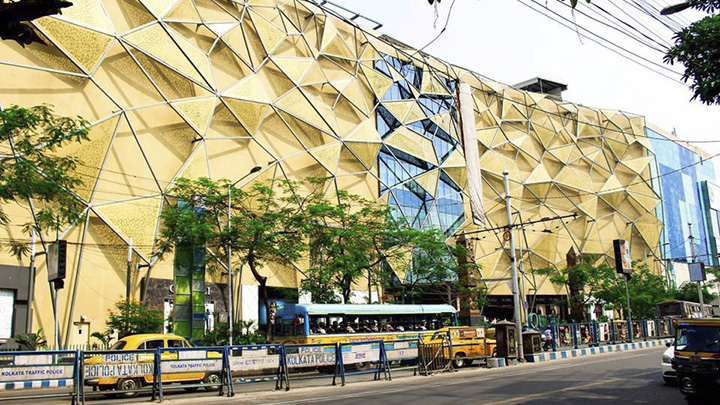 Address: 33, Syed Amir Ali Ave, Park Circus, Beck Bagan Row, Kolkata, West Bengal 700017
It is one of the largest malls in the heart of Kolkata. It is an amalgamation of luxury and precision. Beautiful from outside and luxurious and well decorated from inside makes it a perfect destination to shop and have fun.
The location of this specific mall is truly versatile, with convenience from the Park Street and Ballygaunge area. It also has no-hassle access from Alipore and New Alipore area too.
Exquisite fashion destination with all the famous brands at a single spot makes Quest Mall a sweet shopping stop.
Quest Mall, Kolkata stands as a solution to your complicated dining choices.
The only Gucci store in the larger city of Kolata is in Quest Mall.
Some other famous top brand stores of the Quest Mall are, Hamleys, Fabindia, Dune London, Calvin Klein, Bally, Bose, Aldo, and so on.
The best dining destination within the Quest Mall is, Ajisai, Chilis, China South, Indigo, Q33, The Irish House, etc.
KFC, Waffle Wallah, Pizza Hut, Starbucks, are also some stores to complement your hunger when much into shopping.
Hence all these bits, makes Quest is a premium mall and an iconic choice to shop and dine in.
It also has the Inox Cinema hall and also 11D Adventureplex which is very exciting.
So, here's ample reason why to choose Quest Mall a perfect shop stop and what makes it so.
Click here to know more about the Quest Mall







2. Acropolis Mall:
Address: No. 1858/1, Rajdanga Main Road, Sector 1, East Kolkata Township, Kolkata, West Bengal 700107
It is another big greatly featured mall developed by the Merlin Group in the city of Kolkata. It is 5 storeyed mall with a number of retail shops, fine restaurants, family fun spaces, four-screen multiplex, food court, and many more.
It is a hub of brand stores, with every kind of products ranging from clothing, accessories, and stationeries. Along with it, it also has grocery stores in it which makes it an ideal place for buying of necessary thins at a single place.
The vast range of brand stores of Acropolis Mall includes Shoppers Stop, Baggit, Biba, Woodlands, Jack and Jones, Puma, Wildcraft, Metro Shoes, Levi, Gini & Jony, FabIndia, Being Human, etc.
Some fine food destination in the Acropolis Mall's Foodcourt includes KFC, Dominos, Wow Momo, Starbucks, etc.
Some fine dining choices in Acropolis Mall are Chilis, Hoppipola, Asia kitchen, etc.
The mall takes utmost care about your entertainment too and has a PlayStation center and Cinepolis theatre. Along with the two, Timezone that is the gaming zone which is much loved by kids, youngster, and adults too.
The location of the mall is also very unique with numerous matters of interest in the nearby area. The transit facility to Acropolis Mall is also very flexible. Thus it is a great mall with all the much-needed features and well-maintained distinctions.
Click here to know more about Acropolis Mall
3.

Diamond Plaza Mall: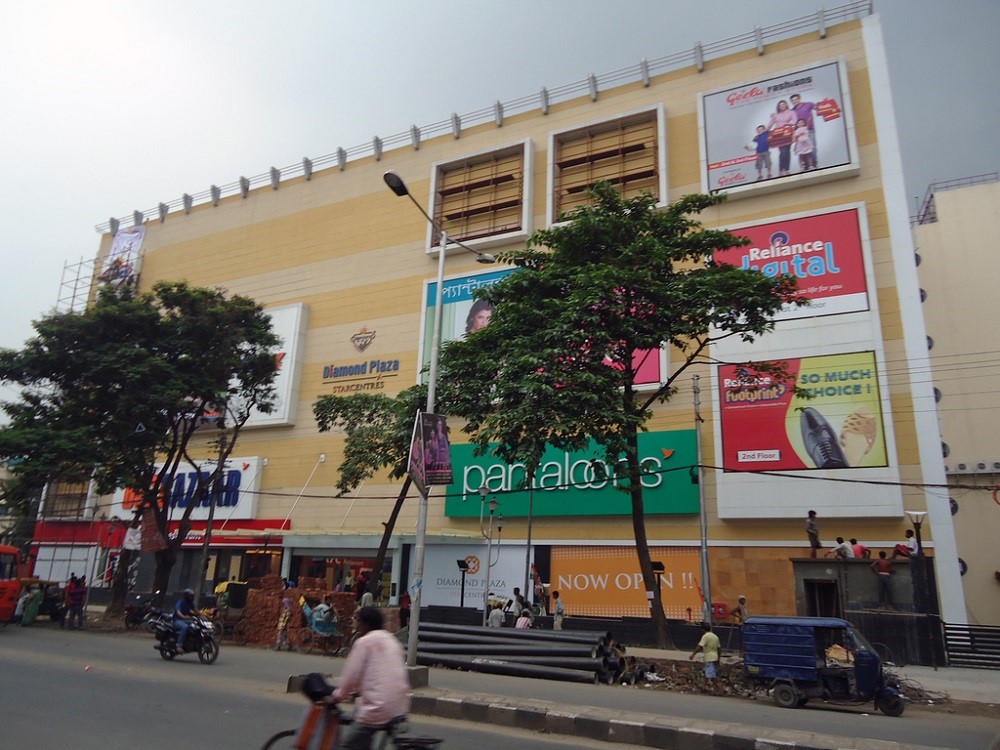 Address: 68, Jessore Rd, Ward Number 23, Satgachi, Kolkata, West Bengal 700055
It is the biggest mall in North Kolkata, with all the essential brand stores and great ambiance. It was open in 2012, in a very populated area, which is between Nager Bazaar and Lake Town Crossing. It is extremely popular for it has everything you need, under one roof.
Be it your clothing and apparel shopping, grocery shopping, electronic good shopping, or self-care treatments, the Diamond plaza is a one-stop destination for the purpose.
It has a varied range of shop which includes all the top brands.
Some of the best fashion brand stores in Diamond Plaza Mall include Pepe Jeans, Pantaloons, Max, Manyavar, Biba, Trends, etc.
Some fine dine-in options of the place are, Bhojohori Manna, Rang de Basanti Dhaba, barbeque Nation, and its food court has KFC, Dominos, Wow Momo, The Noodle Story, Tea Junction, etc.
For electronics buy, we have vivid choice from authenticated apple store Imagine to Reliance Digita, Mi outlet.
Truly, the Diamond plaza is a hub of self-care and cosmetic stores, it has Go Colours, Lakme, Coloressence, Revlon, and so on.
Diamond Plaza is seriously a great mall with a huge collection of brand shops and no compromise with its entertainment features for its customers. The entertainment forum of Diamond Plaza Mall comprises of PVR Multiplex and Timezone (the gaming zone).
All the defined segments of fashion, apparel, grocery, entertainment makes it a great spot to extract all the needs.
To know more about Diamond Plaza Mall, Click here
4. South City Mall:
Location: 375, Prince Anwar Shah Rd, South City Complex, Jadavpur, Kolkata, West Bengal 700068
The South City Mall is the largest mall in Eastern India. The mall was established in the year of 2008 and was designed by retail specialist ICS Bentel Associates. It is made upon a huge area amidst the city and is very well located where the commute system is well available.
The mall consists of all the major fashion, lifestyle brands like Mango, Biba, Forever 21, Shopper stop, and many more.
It is the house to some finest dining restaurants in the city, like, Flames and Grills, Mainland China, Riyasat, etc.
Apart from the food and clothing stores, it has Inox Multiplex Theatre, with six screens and Timezone for its visitors to have fun.
The food court has all the top quick food destinations right from KFC, Dominos, Gelato to Pizza Hut.
The mall is very well decorated and well planned, which follows a unique pattern of architecture and looks very beautiful from outside too.
As much as it attracts the people from the posh forum of the city, the mall is equally accessed by the mass of the city too.
This is a fine mall in Kolkata, with very well defined stored and other lifestyle influencing cache.
Click here to know more about South city mall
5. Manisquare Mall:
Location: 164/1, Eastern Metropolitan Bypass, Kadapara, Phool Bagan, Kankurgachi, Kolkata, West Bengal 700054
Again, it a perfect shoppers destination, for it is a place where you get everything you need.
It was established by the Mani Group which is visited by approximately 2000 individuals every day. This is built on a big area, on the EM Bypass.
Its location is really good a little off from the main city pollution. And it is in between the main Kolkata city and Newtown. Thus the atmosphere is very pleasant around the mall, and great for some weekend small drives and dine in and shopping.
Some top stores of Manisquare are- Westside, Pantaloons, E-zone, Levi's, Raymonds, and much more that attract the tourists.
The food court of the place is huge and accommodates approximately 650 people at once, and is an open alley between all the very fonding food stores like KFC, Dominos, Mc Donalds, Belgium Bakery, etc.
Apart from these, it has fine restaurants like Flame and Grill, Hoppipola, Haka, Chapter 2, etc.
With all the features to satisfy your styling requirements and taste buds, it does not compromise its customer's entertainment allowances. It has a premium PVR multiplex, Amoeba (the gaming zone), the Scary House (the themed haunted house for entertainment purpose), and the thrilling thing that is the most 7D movie theatre. The Manisquare has the only 7D Movie watching theatre. Also, Manisquare mall is known for its Thai Spa Parlour.
I guess everyone must experience this splendid thing of witnessing a 7D movie, and for sure must visit this place which can be the right one spot for your every need.
Click here, to know more about Mani Square Mall
6. City Centre I:
Location: DC Block, Sector 1, Bidhannagar, Kolkata, West Bengal 700064
This is a destination where not only people go shopping but also to take a stroll with friends and partners. This is one such place that truly reflects the essence of Bengalis Adda. It showcases the Bangaliana with all kinds of gossips among friends with a cup of teas in their hands.
This makes City Centre I, precisely City Centre different from any other malls in the city.
This is the only mall in the city with a big open space and amphitheater, for the musical band performances. A lot of youngsters especially college goers flocks to city center for witnessing the band performances and a lot of Bengali movies usually do their promotion in this area.
Keeping this aloof the malls is home to hundreds of brands of clothing and accessories. It is well planned to have some Kolkata based fashion brand along with other international brands.
The major attraction of the city center is
The Kund

( vast multi-stepped plaza designed with a central water body and a fountain that may be lighted up at sundown )
The Kolkata Store ( the store that celebrates heritage and love of Kolkata)
The Hangouts (the city's one of the most casual dining places for all cuisines)
Cineplex (large multiplex capable of accommodating around 1000 people at a time)
There are few more features of City Center that might make you crave to visit the place and extract the essence of Kolkata nd Bengalis of Kolkata. To know more.
Click here to know more about the attractions in City Centre Mall
7. City Centre II:
Location: Action Area II, Newtown, Kolkata
The City Centre II is owned by one of the business tycoons of Kolkata, Mr. Ambuja Neotia. The City Center II Mall has a huge and open area, which marks the beautiful ambiance of the place.
Some stores of the place are Big Bazaar, Pepe Jeans, Spencers, Max, Reliance Fresh, etc. It totals it has 240 retail stores in it. The alley has been a pattern and designed in a specific way to showcase the traditional architecture and bring out heritage.
It has celebration square where are a lot of events keeps going on, which are much enjoyed by the visitors.
It has a food court named hangout, which has different varieties of fast foods and sip and drinks.
The place is much favored by city people fot]r it is spacious and has numerous stores. So it acts as a solution to both the problems to the city people that, going out for some chills as well as for some good shopping.
Click here to know more about City Centre II
8. Avani River Side Mall: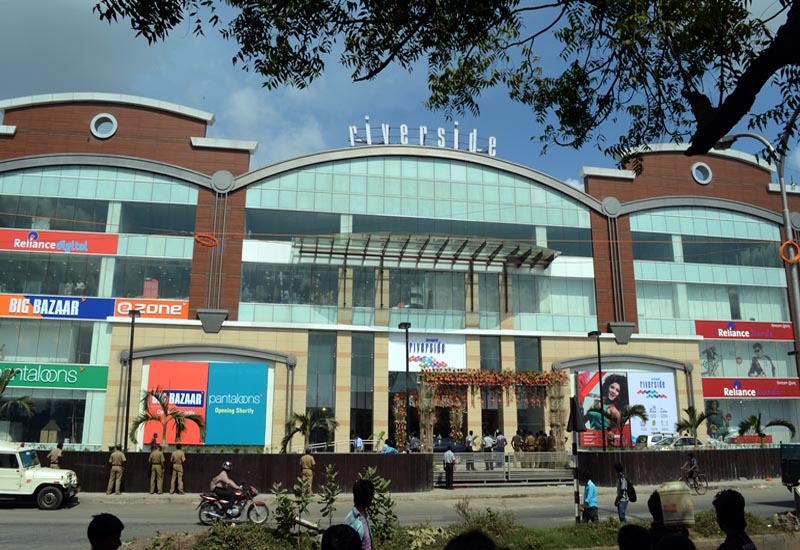 Location: 32, Jagat Banerjee Ghat Road, Choura Bustee, Shibpur, Howrah, West Bengal 711102
This is another big mall developed on the west bank of Hoogly River, with a wide variety of shopping options. It has many branded stores.
Some branded stores of the place are Reliance, Manyavar, Biba, Big Bazaar, U.S. Polo Assn.
While some taste buds feasting destinations of the mall includes, Mac Donalds, Wow Momo, Belgium Waffle, Sunway, and a lot more. A dining destination in the mall area is Mainland China,
The mall also looks forward to assure high entertainment for its customers. For entertainment services, it has PVR Multiplex and children's play area. The Food court of the mall is also very big, which a large number of sitting space.
It is the nearest good shopping spot from the Howrah Railway Station. So, if you need some last-minute shopping this is truly the perfect destination for you. Overall it is a great choice to go shopping because it has tonnes of branded store choices for you to choose from.
Click here to know more about Avani River Side Mall
9. Lake Mall:
Location: 104, Rash Behari Ave, Lake Market, Kalighat, Kolkata, West Bengal 700029
It is not a really big mall but holds a lot of popularity for its easy accessible shops. Its location is truly commendable, and that helps it in making is more popular among people mostly Youths.
Usually, college-goers, one famous place to hangout is Lake Mall. With the many colleges located in the area, many students visit lake mall in quite regularly.
It is a five-story building with shops like Globus, Big Bazaar, Max, Little Shop, Vyolla, etc.
The food court is big with many stores like KFC, Dominos, Wow Momo, Keventer, CCD, Burger King, Tea Junction, many ice creams parlors, and other fast food stalls.
Apart from this, it has a fine dine-in option at Barbeque Nation, on the fourth floor.
The topmost floor has four screened Cinepolis multiplex, for entertainment purpose.
The Lake mall can seriously be your one-stop destination, for your quick visit and everyday shopping.
10. Axis mall:
Location: Wonderland Park, Street Number 106, Sub-Central Business District(Action Area 1), Action Area I, Newtown, Kolkata, West Bengal 700156
Axis mall is the one you must pay a visit when you want to shop along with some fun at the weekend. Some brand stores in the mall are Nike, Addidas, Spencer's, Levi's, and so on.
It has an icon customized multiplex named 'Bioscope', with six screens, each themed in a different way. Other than this, the second big reason why you must visit the mall is because of its snow park. They have created a snow park when you enter into the snow park, you feel like you are in some cod countries far away from Kolkata.
I guess, these are enough reasons why you should not skip on this and make sure to feast on the delicious delicacies at the food court of the Axis Mall. The ambiance of the place is also very nice and open and spacious which makes it an ideal place to visit.
11. Forum Courtyard Mall:
Location: 10/3, Elgin Rd, Sreepally, Bhowanipore, Kolkata, West Bengal 700020
It was established in the year 2003. It is a hub to many international brands and one of the favorite shopping destination for many fashion enthusiast of Kolkata. There are shops like Rolex, Mango, Shoppers Stop, etc. which is loved by the customers. Originally, it was made for the purpose of the office tower.
The body Shop, Colorbar, Forest Essentials, Mac, Shoppers Stop, W, Swarovski are also some famous brands of the Forum Courtyard Mall. After shopping, you can binge on some famous restaurants at the mall service truly delicious and authenticated food.
The food court is huge with many food stalls and candy shops. The shop also has Cinepolis multiplex, which features, regional, Bollywood, and Hollywood movies.
Click here to know more about Forum Courtyard Mall
12.

E-Mall:
Location:

Chittaranjan Ave, Chandni Chawk, Bowbazar, Kolkata, West Bengal 700072
E-Mall, a specific mall for electronic goods only. It is a highly accessed mall for all electronic products all over Kolkata. It has stores from all electronic companies and they sell authenticated goods with many discounts and offers.
Along with electronic gadgets, they also sell other accessories that are related to electronic products, like spare parts of different goods, mobile covers, etc.
13. Metro Plaza:
Location: 1, Ho Chi Minh Sarani, Kankaria Estates, Park Street area, Kolkata, West Bengal 700071
It is a mall that consists of many stores, mainly focussing on female clothing and accessories like jewelry, bags, shoes, etc. It is quite big with multiple floors and fully air-conditioned. The stores in this place sell very fashionable female outfits, and this is a much-liked place of shopping by youth females. You get all the trendy girly stuffed here.
Do not let go of the chance to visit this place for some really beautiful and great deals at Metro Plaza.
14. Metropolis Mall:
Address: Eastern Metropolitan Bypass, Hiland Park, 1925, Chak Garia, Santoshpur, Kolkata, West Bengal 700094
It is a host to many retail sellers like Big bazaar, Chique, Colour plus, etc. It has a big food court and playing zone for food feating and entertainment. It has a large 100 seater movie theatre which features Hollywood and Bollywood movies.
Its gaming zone has an eight-lane bowling alley.
It has many dine-in restaurants to get good going with friends and family.
She can definitely be one another good one-stop shopping destination for you.
Kolkata has some really big and amazing malls, so these can really be your right weekend destination for some and shopping time with friends and family. Most of these malls also have massage parlors which can definitely be one of the best places to relax on your weekends and can be a stress buster. Visit the incredible malls in Kolkata and celebrate your shopping experience.
Disclaimer any information provided on the page is just based on research done by us. The real value or information may vary with time. For exact information contact the respective shop's website or contact no. for the latest details.

*** Kolkata Doodleish is just a blogging channel and is no way responsible for any data changes in the future or any is information. If you have doubts about any pieces of information, please verify it from the respective official website of the following institution.
Also Read,
13 Top Haunted Places in Kolkata
20 Best Sweet Shops in Kolkata